Thin film synthesis of open microspheres of TiO2 nanorods applied as an Hg2 + electrochemical sensor
Keywords:
TiO2, Nanorods, Sensor, Electrochemical, Mercury.
Abstract
Mercury (Hg) is one of the most toxic pollutants, it has become a serious threat to human health and the environment. Its exposure produces serious toxic effects in living beings, affecting the nervous, digestive and immune systems, and other parts of the organism. The environmental impact is significant and requires the attention of all the parties involved. For this reason, the development of analytical methods for the detection of low concentrations of Hg in different samples is a matter of scientific interest. Currently, the use of titanium oxide (TiO2) has revolutionized several fields generating new technological applications. The area of the sensors has not been alien to this revolution due to the properties of this material. In this research work, the development of a novel electrochemical sensor for the determination of ultratraces of mercury in water, from oriented nano-flowers of TiO2 is disclosed. The synthesis of the material was carried out on a carbon substrate (graphite) by the hydrothermal method. The determination of Hg2+ in water was made by cyclic voltammetry and differential pulse. The electrochemical tests of the sensor showed high sensitivity, selectivity and stability, as well as a wide range of detection in ppb.
Downloads
Download data is not yet available.
References
F. Londoño-franco, T. Londoño-muñoz, G. Muñoz-garcía, "Los riesgos de los metales pesados en la salud humana y animal". Biotecnol. en el Sect. Agropecu. y Agroindustrial, vol. 14, no. 2, pp. 145–153, 2016. https://doi.org/10.18684/BSAA(14)145-153.
D. Martín-Yerga, A. Costa-García, "Recent Advances in the Electrochemical Detection of Mercury", Curr. Opin. Electrochem., vol. 3, no. 1, pp. 91–96, 2017. https://doi.org/10.1016/j.coelec.2017.06.012.
Norma Oficial Mexicana NOM-127-SSA1-1994, Salud ambiental, agua para uso y consumo humano-limites permisibles de calidad y tratamientos a que debe someterse el agua para su potabilización. http://www.salud.gob.mx/unidades/cdi/nom/127ssa14.html.
Y. Zhou, Y. Yang, X. Deng, G. Zhang, Y. Zhang, C. Zhang, S. Shuang, Y. He, W. Sun,"Electrochemical sensor for determination of ractopamine based on aptamer/octadecanethiol Janus particles", Sensors and Actuators B: Chemical, vol. 276, pp. 204-210,2018. https://doi.org/10.1016/j.snb.2018.08.110.
M. Begoña, G. García, C. García, "Los Biosensores Electroquímicos: Herramientas de La Analítica Y Del Diagnóstico Clínico"., vol. 6, pp. 197–222, 2010. http://hdl.handle.net/10651/11669.
O. Alev, E. Şennik, N. Kılınç, Z. Öztürk, "Gas Sensor Application of Hydrothermally Growth TiO2 Nanorods", Procedia Eng., vol. 120, pp. 1162–1165, 2015. https://doi.org/10.1016/j.proeng.2015.08.747.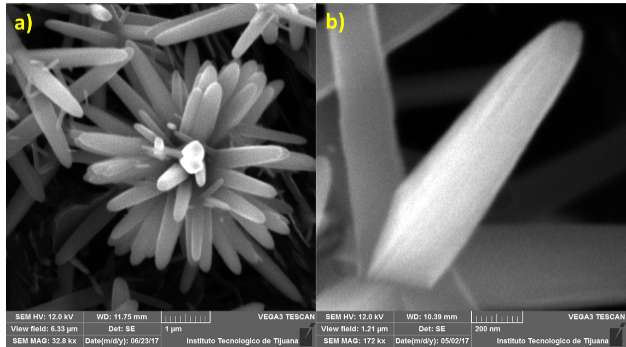 Additional Files
How to Cite
Hinostroza-Mojarro, J. J., Ruiz Ramírez, M. M., Silva Carrillo, C., Felix Navarro, R. M., Valle Trujillo, P. A., & Trujillo Navarrete, B. (2020). Thin film synthesis of open microspheres of TiO2 nanorods applied as an Hg2 + electrochemical sensor. REVISTA DE CIENCIAS TECNOLÓGICAS, 3(2), 96–105. https://doi.org/10.37636/recit.v3296105
Section
Research articles
License
Copyright (c) 2020 Juan José Hinostroza Mojarro, Mirza Mariela Ruiz Ramírez, Carolina Silva Carrillo, Rosa Maria Félix Navarro, Paul Antonio Valle Trujillo, Balter Trujillo Navarrete
This work is licensed under a Creative Commons Attribution 4.0 International License.
The authors who publish in this journal accept the following conditions:

The authors retain the copyright and assign to the journal the right of the first publication, with the work registered with the Creative Commons Attribution license 4.0, which allows third parties to use what is published as long as they mention the authorship of the work and the first publication in this magazine.

Authors may make other independent and additional contractual agreements for the non-exclusive distribution of the version of the article published in this journal (eg, include it in an institutional repository or publish it in a book) as long as they clearly indicate that the work it was first published in this magazine.

Authors are allowed and encouraged to share their work online (for example: in institutional repositories or personal web pages) before and during the manuscript submission process, as it can lead to productive exchanges, greater and more quick citation of published work (see The Effect of Open Access).